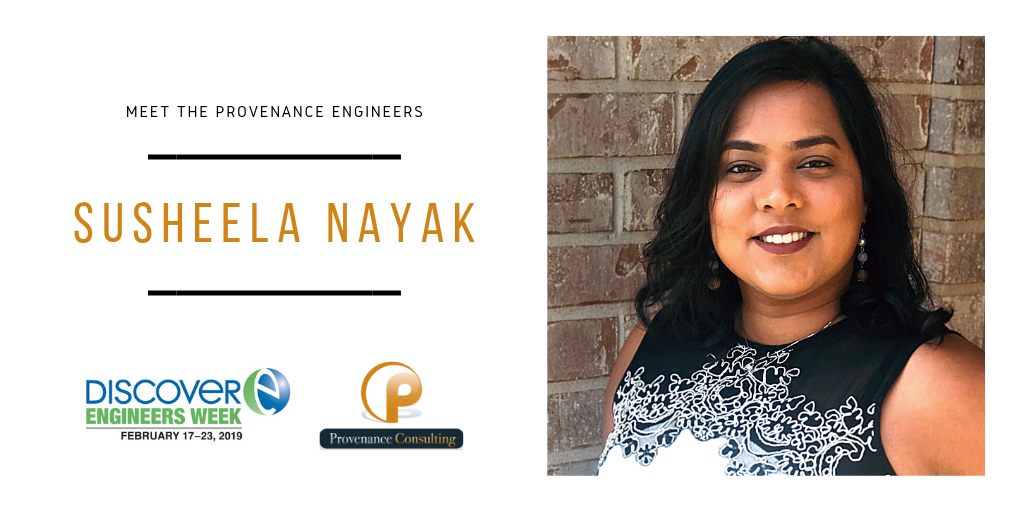 Susheela Nayak – Engineers Week 2019 Spotlight
During her career at Provenance, Susheela has leveraged a strong relationship with a mentor to better her technical communication and project management skills. She now manages a team that works on multiple client projects.
About Susheela
Quick Facts
Job Title: Project Lead
Hometown: Bengaluru, India
Degree (College/University): Bachelor of Science in Chemical Engineering (University of Texas at Austin)
Years with Provenance: 6 years
Years in the Industry: 6 years
Provenance Office: Sweeny and Houston, Texas
Project Sites: Sweeny (TX); Borger (TX); San Francisco (CA); Bayway (NJ)

The Story
Engineer Spotlight
Few professionals, in any field, will claim to be successful in a vacuum. Most will identify an influential figure who encouraged them. Then there are the lucky few who can claim to have had a true mentor – Susheela Nayak is one of them.
Growing up in India, Susheela chose chemical engineering "initially because of my love of math and chemistry, but also because I wanted to pursue a career that would challenge me, have broad applications, and provide a value to society and industry.
Looking back, I can say that working in Chemical Engineering and Process Safety had checked all these boxes."
Provenance Path
Her degree in Chemical Engineering from University of Texas at Austin prepared her to hit the ground running when she joined Provenance in 2013. "My education at UT Austin provided me with the foundation of my technical expertise, and working with clients while at Provenance has provided me with the experience and confidence to ensure that I am providing clear, concise, and relevant information," she says of sharpening her skills for communicating technical information.
In her current role, Susheela manages Provenance's projects and client relationships at several different client sites and across different service offerings.
"In a nut shell, my job is to ensure that we provide our clients with high quality deliverables that enhance their process safety management (PSM) program," she explains.
Working Onsite
Susheela leads a four-person team that works onsite. While her team does not interact daily with the rest of the Provenance team, she credits the company Slack channel and social events with keeping her and her team connected to their coworkers.
Working at a client site has some wonderful advantages, "My team gets the opportunity to work directly with our clients and truly understand their needs. As a bonus, we also get to see our efforts and recommendations get implemented in the field – we get to see the whole lifecycle of projects from providing our initial engineering solutions, to design and implementation. With our experience of knowing what works in the field, we make more feasible recommendations to our clients"
Moving into Management
The transition from being an engineer on a team to a team manager has proved a challenge that Susheela has enjoyed. "As an engineer on a team, I managed my own priorities, learned to work effectively in a team, and learned how to apply my technical knowledge to solve problems.
As a project lead, I have learned to build client relationships, effectively manage a strong team and delegate work while setting clear expectations and priorities and staying up-to-date on technical information," she remarks.
Mentor Relationship That Made a Difference
In the past six years, Susheela has learned much from her supervisor and mentor, Account Director Lauren Mercer. Having a supervisor who was committed to helping her succeed made a difference. "Early on, Lauren recognized my goals and capabilities of being a project manager, and worked with me to progress my management skills,"  she recounts.
In addition to learning how to manage personnel and budget projects, Susheela took the opportunity to present deliverables to clients as much as possible. During the early stages of Susheela's career, Lauren worked with her on presentation dry runs and provided a constant loop of feedback.
All of these efforts helped Susheela excel at the "soft" skills that aren't necessarily taught in an engineering classroom. Today, she is able to utilize these skills to manage projects effectively.
Lauren describes Susheela's contributions, "Susheela started with us as straight out of college as a new engineer and has grown into a dependable Project Lead. When Susheela manages a project, I know it will get done right and I know our client will be served. I could not successfully manage the account without Susheela on my team."
Susheela and Lauren have built a relationship based on mutual trust and dependence that surpasses a traditional supervisor-employee or mentor-mentee relationship.
Susheela's story shows how a strong mentor relationship with a supervisor early in a career can make all the difference in career development. Today, Susheela channels her own experience and expertise to mentor younger members of her team, and to develop the next generation of Provenance's pioneers.
Provenance Engineer Spotlight Profiles
Engineers Week 2019