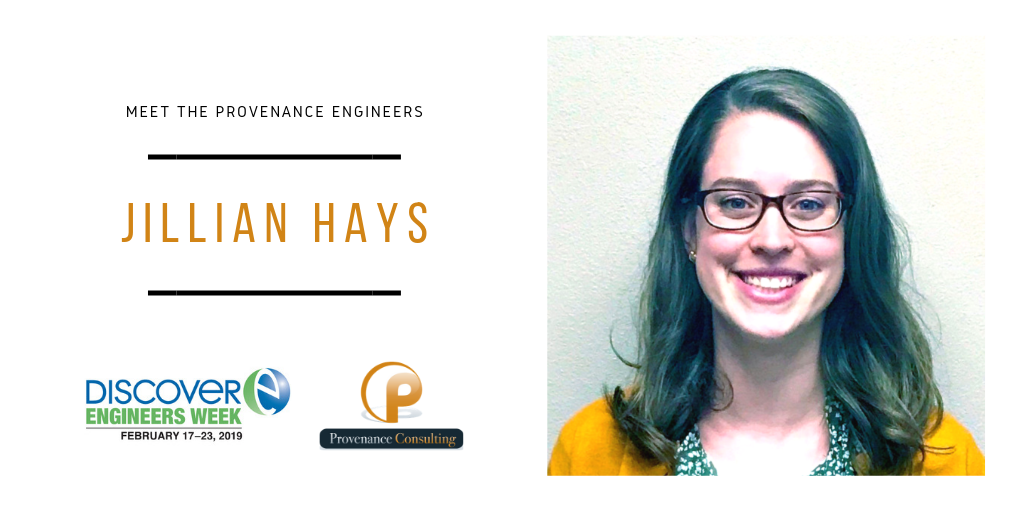 Jillian Hays – Engineers Week 2019 Spotlight
Diligence in engineering excellence and developing trust-based relationships helped Jillian Hays become a trusted relief systems subject matter expert at a major client's technology research facility.
Job Title: Project Lead
Hometown: Houston, Texas
Degree (College/University): Bachelor of Science in Chemical Engineering (The University of Texas at Austin)
Years with Provenance: 8 years
Years in the Industry: 8 years
Work Site: Bartlesville, OK

The Story
Engineer Spotlight
Houston, Texas, is known by many as the "Energy Capital of the World". Its proximity to the industry means nearly everyone knows someone connected to oil and gas.
Jillian Hays grew up listening to stories from the plant around the dinner table. This served her well while she pursued her bachelor's degree in chemical engineering from the University of Texas at Austin.
When it was time to decide on a career path, she reflects, "Knowing that an engineering degree can open up a wide range of opportunities made it an obvious field of pursuit for me."
Provenance Path
Jillian joined the Provenance team in the relief systems group – one of the most rigorous and technically difficult areas of Process Safety. For the past several years, she has been based in Bartlesville, Oklahoma, at a technology research facility for one of our major clients.
"I oversee the relief systems work for the PSM covered sections of the facility which specifically addresses the pilot plants. I work with the Environmental Health & Safety (EHS), process engineering, operations, and project groups to handle project work and ad hoc relief systems requests," she explains.
This smaller facility is unique – it is not a production facility and so it comes with its own challenges. Some of those challenges include, "trying to apply codes and standards intended for production facilities to this type of facility (such as sizing, calculations, and methodologies), continually working on variances to fit the technology, interpreting application of codes – it's been a big learning curve."
There are some benefits to working at this unique site. Since the facility isn't focused on meeting production goals, conducting shut downs are done more frequently and with less hesitation. Since the site is researching and piloting technology, there are more personnel with doctoral degrees which creates a different culture.
Another difference is in the projects themselves. "The client wants us involved in actual installation of PRDs, working with all parties involved," Jillian states.
"At production facilities, that work is usually split between design and implementation. Here, we get to submit a recommendation and witness it installed in the field within a few weeks. Then we're involved in updating the final documentation. We get the chance to resolve problems as we go and see it all the way through."
Engineering and Project Management
As she's settled into her role at this facility for the last few years, Jillian has found that her role is more about project management than simple engineering. She's become a communications "clearinghouse" between Provenance and the client – she gathers information, addresses IT issues, keeps the engineers on task, and directs priorities.
"As Project Lead, I spend less time doing calculations and am involved earlier in the projects," she says. "While overseeing a small team, I focus more on delegation and financial action items than just task completion. A Project Lead's responsibilities focus on creating efficiencies between the project team and the client."
Jillian has a unique ability to gain a clear understanding of the client's needs. "We focus on determining how our clients like to work and craft our recommendations accordingly. Being onsite around the people making the decisions and hearing them share their opinions allows me to understand the different parties and different preferences involved. Developing those relationships with the client is crucial," she explains.
Her supervisor and Relief Systems Line of Service Manager, Justin Phillips, agrees.
"Jillian is a careful, detail-oriented engineer who makes conscientious decisions in her work and approach, but is also personable, reasonable, adaptive, and focused on customer service. The organization depends on Jillian to manage her client's needs and to lead the team of engineers, co-ops, and technicians that make her client's visions become reality."
Relationships Work
While general engineering stereotypes might lead you to believe there is one "type" of engineer, that's just not the case. There's a range of engineering personalities to work with, although most universities provide little guidance on navigating the relationship side of working in these facilities.
"I developed most of my relationship-building skills on the job by focusing on doing the best job for the client," Jillian comments.
"The social aspect of my personality has helped in the role of contractor and created valuable relationships with clients. It's important to develop those relationships before situations get difficult or you need to have important conversations."
Jillian's strive to provide her clients the utmost best possible service makes her a valuable and indispensable member of the Provenance team. By leveraging her technical acumen and drive to fully understand the needs of her client, she has earned the honored SME designation as well as the respect and trust of those she works with.
Provenance Engineer Spotlight Profiles
Engineers Week 2019