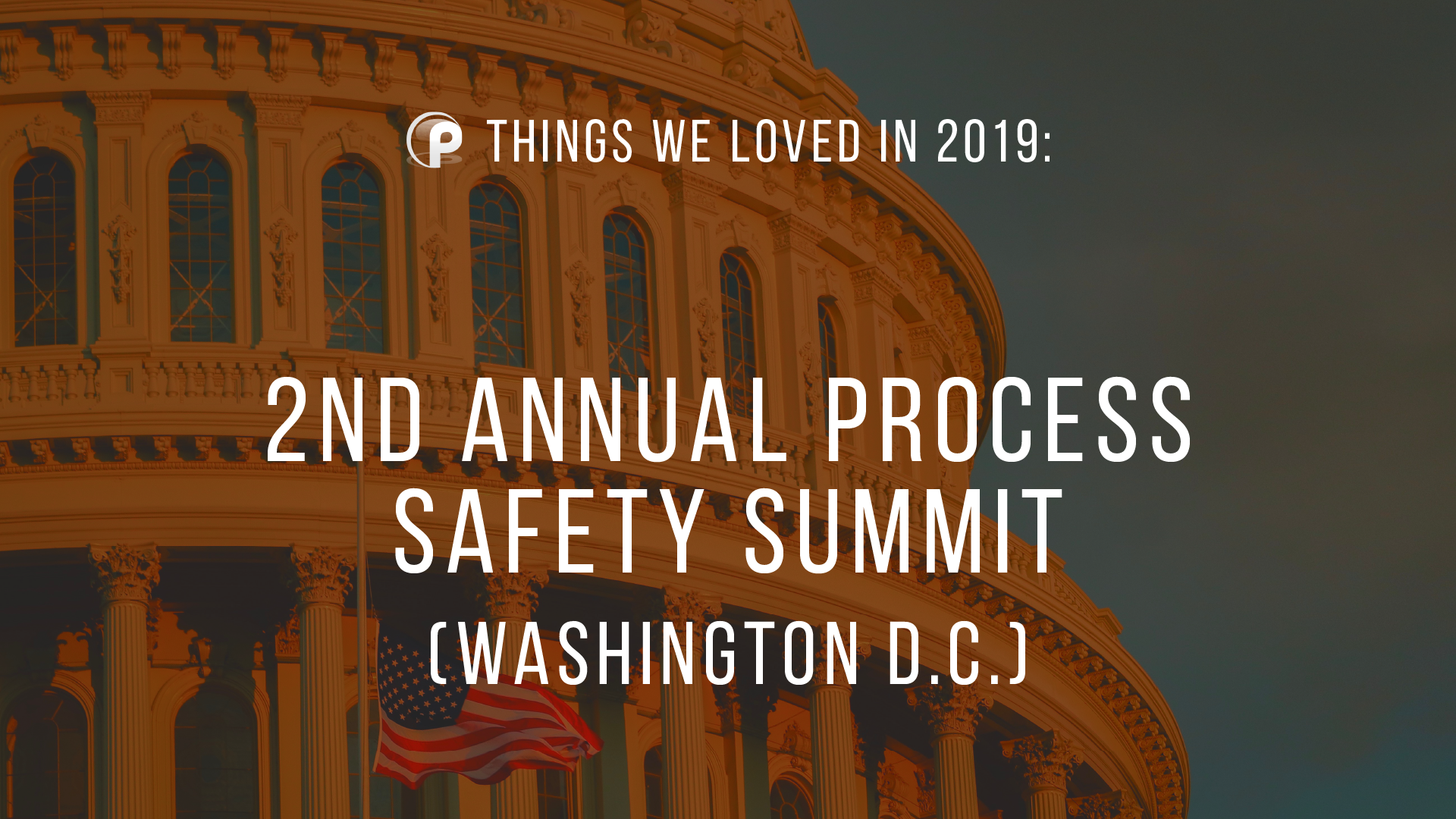 Things We Loved in 2019: D.C. Safety Summit
Event information: Oct 15-16, 2019 (Washington, D.C.)
---
For a short two days in October, representatives from various industries and government agencies descended on D.C. for an intensive summit on process safety organized primarily by the law firm Conn Maciel Carey LLP. Other sponsors included API, AFPM, and Sidley Law Firm (EPA regulatory specialists).
The 2nd Annual Process Safety Summit in Washington, D.C., boasted a heavy-hitter list of speakers and panelists from both industry and government sectors.
Provenance Consulting Account Director Dylan Misslin, along with a small team of Trinity Consultants' PSM specialists, attended the event and enjoyed a significantly positive experience. While developed much more recently than other industry events like the AFPM National Safety Conference or the AIChE Global Congress on Process Safety, the Process Safety Summit (aka "the Summit") taps into truly actionable information for its attendees.
Eric J. Conn and the Conn Maciel Carey Workplace Safety Practice specialize in OSHA defense, not just process safety management. Their knowledge of how the regulations directly affect their clients plus their contacts within the regulatory world enable them to provide a unique experience.
In addition to this now-annual conference, their blog, "The OSHA Defense Report" provides a treasure trove of resources for anyone wanting to gain a better understanding of the legal side of PSM regulations, citations, and letters of interpretation.
Timely and Useful Sessions
This expertise combined with a smaller attendance (fewer than 250 people) allowed for some engaging sessions with the speakers and panelists (the speaker list is available online). A few notable sessions/topics included:
The EPA's Risk Management Program changes:

RMP Amendments for 2021
RMP Reconsideration details & timeline
Possibilities for next steps

OSHA's ChemRef NEP (Chemical & Refining National Emphasis Program)

2018 citation statistics
Trends in audit findings

Expanding PSM Coverage, Compliance Audits and RAGAGEP
Experiencing The Summit
Conn described the motivation for organizing the event: "The Summit fills an important gap for those impacted by process safety. Though there are opportunities for employers and operators to interact with key government regulators, none of those opportunities focus exclusively on process safety." He explains, "All other true process safety industry events are far from Washington, DC, making it hard to attract significant representation by senior agency officials and trade group staff.​"
In describing the intent of the Summit, Conn noted, "The Summit uniquely focuses on the process safety regulatory landscape and industry best practices. The event covers rulemaking, enforcement programs and matters, significant cases, trends as we move through the Trump Administration, best practices, and other key process safety regulatory issues impacting Industry."
Overall, Dylan Misslin noted that the Summit seemed more focused on maintaining regulatory compliance by truly understanding the purpose behind the regulation and how it is enforced than just on the mechanics of a process safety management program.
"While everyone can agree that process safety is important because safety is important, the element of compliance cannot be left out of the equation for our clients."
Important Takeaways for Process Safety Specialists
Mike Kish, Senior Safety Specialist at The Redstone Group, A Trinity Consultants Company, noted that the session on RAGAGEP compliance was particularly interesting.
"I found myself thinking about how RAGAGEP deficiencies landed at the top of the ChemRef NEP citations. While maintaining RAGAGEP compliance is very detailed and labor intensive, it can have serious consequences for our clients if conducted or applied improperly," he observed.
"The key point I took away," added Greg Haunschild, P.E., Managing Consultant at Trinity Consultants, "was the importance of defining and declaring the RAGAGEP program for your specific site and sticking with the defined program in all aspects."
Given that PSM is a performance-based regulation, it is crucial that what you actually do match what you declare.
OSHA assumes that each site chooses their RAGAGEP standard based on the risk within the given process. Haunschild explained, "while a site may choose to set standards beyond minimum requirements, they cannot retract their original declaration in favor of a less-stringent standard if the RAGAGEP isn't met. Once you declare the bar, you must reach it."
Curt Petrosky, P.E, CSP, Managing Consultant at Trinity Consultants, has continued to think about the 2019 Wynnewood decision and how it could impact clients.
Given the OSHRC decision's definition interpretation of "process", Petrosky notes, "sites should review the boundaries of their covered processes," to ensure they understand how the decision may impact their PSM applicability across their facilities.
Recommended Event for PSM Specialists
Misslin noted that the benefits from attending this event were far-reaching. "Although D.C. is not the most convenient conference location, having the opportunity to connect in person with major players in the regulatory landscape was a major selling point for me," he remarked.
The smaller scale of the event and more intimate access to a number of government representatives who are notorious for avoiding industry gatherings en masse made it worth the trip.
Petrosky agreed. "You get to hear regulators from both OSHA and EPA answer pertinent questions and give you a sense of the direction where regulation is headed," he adds.
One word of advice for future attendees is to choose your table wisely. "Scheduled breaks were short, so most of the networking time happened briefly between sessions among your table-mates. Take the opportunity to get to know those around you whenever you get the chance – the room is full of major players either in the industry or on the regulatory side," Misslin advised.
Details on the 2020 Process Safety Summit
Looking forward to the 2020 Summit, Conn noted several major developments that will impact the process safety industries since this past October. From the EPA's release of the RMP Reconsideration Rule to the CSB's introduction of a proposed and final Accidental Release Reporting Rule and especially the full briefing about process boundaries in the Wynnewood case before the 10th Circuit Court of Appeals, the 3rd Annual Process Safety Summit in Washington, DC, promises to be another can't miss event.
Conn shared with us the dates for the event – October 14-15, 2020. So, save the date, and we hope to see you there.
2020 Conference Exhibits
Visit with the Provenance Consulting team at these industry events
Recent Posts
View Recent Process Safety Webinars
Learn best practices from our team of knowledgeable experts

We provide on demand process safety webinars covering all PSM topics including PHAs,
mechanical integrity, relief systems and more.