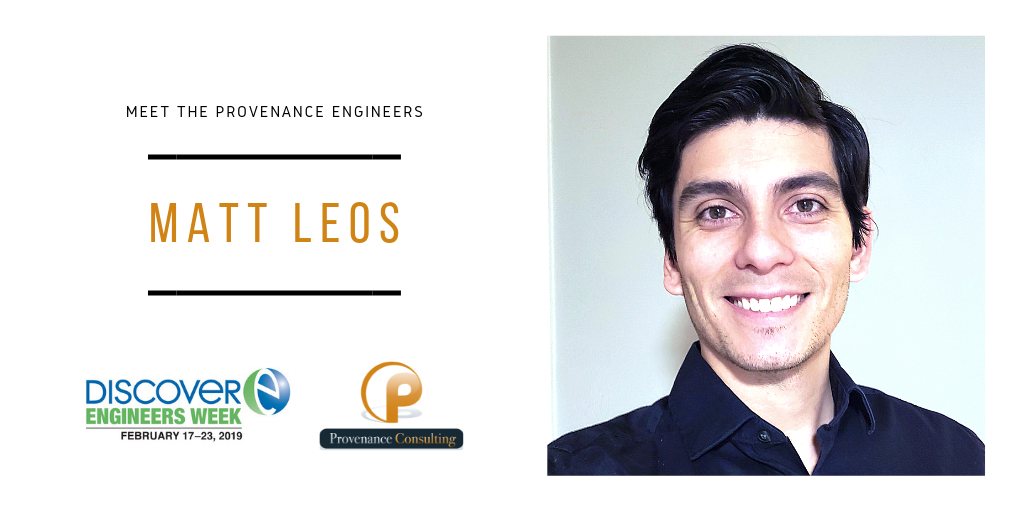 Matt Leos – Engineers Week 2019 Spotlight
Faced with a task outside his normal scope, Matt Leos proved his flexibility and creativity when he focused his engineering mindset on developing innovative software and data management solutions used by major oil and gas companies.
Job Title: Developer and Special Projects Lead
Hometown: San Antonio, Texas
Degree (College/University): Bachelors of Science in Mechanical Engineering (University of Texas at Austin)
Years with Provenance: 7 years
Years in the Industry: 8 years
Provenance Office: Austin, Texas
Project Sites: Borger, TX; Ponca, OK; Sweeny, TX; Enid, OK; Deer Park, TX

The Story
Engineer Spotlight
Part of being an engineer lies not only in what you do, but also how you do it.
In university classrooms, engineering students develop a specific mentality. Matt Leos describes his experience,
"Engineering school taught me how to problem solve. The 'engineer' mentality includes asking lots of questions, seeing the problem from different angles, figuring out the core problem, all while applying a tireless work ethic – you study, study, study."
Provenance Path
Matt's mechanical engineering degree isn't the obvious fit for Provenance given the volume of work in refining and chemical facilities. Matt says, "I took the basic ChemE classes for my degree but didn't consider a career in it," he recounts. "Provenance offered me a Co-Op position which seemed like an interesting opportunity.
The Co-Op experience went really well, and I came to love the company culture, people and responsibility – even as a Co-Op my work meant something to company as a whole."
At the beginning of his tenure with Provenance, Managing Partner Patrick Nonhof asked him, "Do you know much about databases?" While initially hesitant to take on something so far outside his scope, the allure of the challenge compelled him to give it a shot. "By the end of the project, I'd gotten more and more into data management and found that I loved it," he recalls.
A New Direction
Matt's first major project was ARTS™ software development and implementation at a facility in Borger. "Software work really started to make sense when I started full time because I had to figure it all out from scratch. I immersed myself in MS Access, Excel, Visual Basic, Sql, AutoCAD (LISP – autoLISP) – then strove to figure out a process and develop a script to automate it," he explains.
His engineering approach and persistence allowed him to teach himself about databases and to become fluent in multiple coding languages which have allowed him to develop sophisticated solutions and tools for his clients.
Patrick Nonhof describes Matt's valuable contributions:
"Matt demonstrates that engineering is not always hard-core calculations. His career has allowed him to develop very unique data management skills and an amazing efficacy in using low cost tools for high value benefits."
Currently, Matt helps clients extract, manipulate, organize, and analyze data efficiently typically via scripts and routines he writes or a well-designed database or spreadsheet. He also implements and manages custom software Provenance has developed.
Engineering Solutions
In reflecting on challenges he's faced moving from traditional engineering into the software side, he doesn't point to the subject matter as the largest hurdle.
"The biggest challenge I have faced was working remote when I first graduated. I had mentors that could answer the What or Why questions, but I had to teach myself the How. Many of the skills I use today, I taught myself in those early years."
Since then, Matt has focused on maintaining an understanding of the bigger picture when developing solutions. "I have grown the most in my ability to understand work processes and develop simple scripts to automate or simplify those processes."
Matt's experience has taught him that being an engineer is about more than what calculations you run or what your job title is.
He uses engineering every day as he identifies and solves digital problems for some of the company's biggest clients, and as Matt says, "Engineering is really all about solving problems."
Provenance Engineer Spotlight Profiles
Engineers Week 2019